Buttermilk pancakes, bacon, and maple syrup combined in the most perfect eating form, cookie. I love this cookie because it sums up in one bite all the happy and fun that is the Calgary Stampede. I'm also a sucker for sweet and salty and this cookie does that combo perfectly.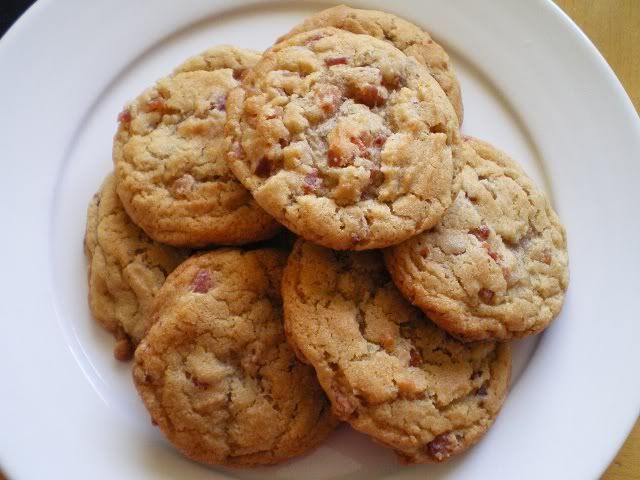 I first saw this recipe on the Canadian show
Recipe to Riches
. When it didn't win the episode, I was so surprised. But it's ok, because it's easy to make. Find the recipe
here
. The only thing I changed about this recipe is the browning the butter part. I was too worried about burning it, so I just melted it and used it. Turned out perfect still. I found chopping up all that bacon into small pieces a gigantic chore, so this lazy girl went and bought a pound of real crumbled bacon bits. So a package of bacon cooked and crumbled is about 1 - 1 1/2 cups.
And I've copied the recipe here for easy viewing. Please enjoy responsibly.
Ingredients
1/2 cup unsalted butter
1 package bacon (500 g)
2/3 cup packed brown sugar*
1/3 cup granulated sugar
3 tablespoons buttermilk
2 tablespoons maple syrup
1 teaspoon vanilla
1 egg
1 2/3 cups all-purpose flour
1/2 teaspoon baking powder
1/2 teaspoon baking soda
1/4 teaspoon salt
Directions
In small saucepan, melt butter over medium heat; cook, swirling pan often, until tan coloured and fragrant with a nutty aroma, about 2 to 5 minutes. Pour into large bowl and set aside to cool slightly.
Meanwhile, in batches cook bacon over medium heat until crisp, spooning off fat as necessary. Drain on paper towel-lined baking sheet. Chop bacon.
Using wooden spoon, stir sugars, buttermilk, maple syrup and vanilla into cooled butter. In small bowl, beat egg until frothy; beat into butter mixture. In another bowl, whisk together flour, baking powder, baking soda and salt. Fold into butter mixture along with bacon, just until combined. Cover and chill dough for 30 minutes.
Preheat oven to 375F (190C). Line two baking sheets with parchment paper.
Shape dough by forming heaping tablespoonfuls into balls; place 2 inches (5 cm) apart on prepared baking sheets. Bake one sheet at a time in centre of oven until puffed and set, about 10 minutes. Cool for 5 minutes on baking sheet; transfer to rack to cool completely.
*Note: These cookies are quite sweet. Last time I made these, I reduced the brown sugar by a half and it still tastes plenty sweet.
Also, if you find the cookies hard after reducing sugar, substitute corn syrup for the white sugar and it'll bring them back to their regular softness.